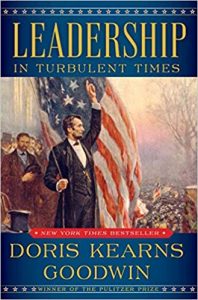 In this Culmination of 5 decades of acclaimed studies in Presidential History, Pulitzer Prize-Winning author Doris Kearns Goodwin offers an illuminating exploration of the early development, growth, & exercise of leadership.  In Leadership, Goodwin draws upon the 4 presidents she has studied most closely-Abraham Lincoln, Theodore Roosevelt, Franklin D Roosevelt, & Lyndon B Johnson (in civil rights)-to show how they recognized leadership qualities within themselves & were recognized as leaders by others.
Leadership tells the story of how they all met with dramatic reversals that disrupted their lives & threatened to shatter their ambitions forever.  Nonetheless, they all emerged better fitted to confront the contours & dilemmas of their times.  No common pattern describes the trajectory of leadership.  Although set apart in background, abilities, & temperament, these men shared a fierce ambition & a deep-seated resilience that enabled them to surmount uncommon hardship.
At moments of great challenge, they were able to summon their talents to enlarge the opportunities & lives of others.  This seminal work provides an essential & accessible road map not only for aspiring & established leaders in every field but for all of us in our everyday lives.
GPL:  973.099