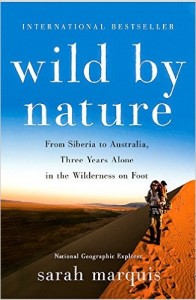 Wild by Nature is vibrant epic of human ingenuity, resilience and persistence. For the last twenty-three years, Sarah Marquis has circumnavigated the globe, solo, on foot.  She is a National Geographic Explorer.   In Wild by Nature, Ms Marquis takes you on the trail of her ten-thousand-mile solo hike across the remote Gobi Desert from Siberia to Thailand and then she was transported by boat to complete her three-year trek in the Australian bush.
Against nearly insurmountable odds and relying on her own wits, Sarah Marquis survived the Mafia, drug dealers, thieves on horseback who harassed her tent every night for weeks, temperatures from sub-zero to scorching, a dengue fever delirium in the Laos jungle, life-threatening wildlife, tropical ringwormin northern Thailand, dehydration, and a life-threatening abscess.
One woman, 10,000 miles on foot, 6 countries, 8 pairs of hiking boots, 3,000 cups of tea, 1,000 days and nights.  For Marquis, her story is about freedom and being alive and wild by nature.
GPL 613.69