By Elizabeth Scanlon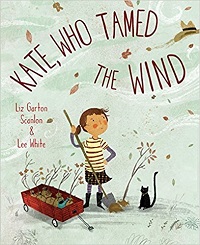 Year of Publication: 2018
A summary from Goodreads:
Award-winning author Liz Garton Scanlon presents a young, rhythmic read-aloud about a girl who solves a windy problem with an environmentally sound solution: planting trees.
A wild wind blows on the tippy-top of a steep hill, turning everything upside down for the man who lives there. Luckily, Kate comes up with a plan to tame the wind. With an old wheelbarrow full of young trees, she journeys up the steep hill to add a little green to the man's life, and to protect the house from the howling wind. From award-winning author Liz Garton Scanlon and whimsical illustrator Lee White comes a delightfully simple, lyrical story about the important role trees play in our lives, and caring for the world in which we live.
Goshen Public Library call number: E SCANLON (BOOK-J)