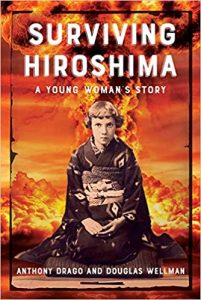 On August 6, 1945, a 22-year-old Kaleria Palchikoff was doing breakfast chores when a blinding flash lit the sky over Hiroshima, Japan.  A moment later, everything went black as the house collapsed on her and her family.  Their world, and everyone else's, changed as the first atomic bomb detonated over a city.  From Russian nobility, the Palchikoffs barely escaped death at the hands of Bolshevik revolutionaries until her father, a White Russian officer, hijacked a ship to take them to safety in Hiroshima.  Safety was short-lived.
After the bombing, trapped in the center of a previously unimagined devastation, Kaleria summoned her strength to come to the aid of bomb victims, treating the never-before-seen effects of radiation.  Fluent in English, Kaleria was soon recruited to work with Gen. Douglas MacArthur's occupation forces in a number of secretarial positions until the family found a new life in the United States.
Heavily based on quotes from Kaleria's memoirs written immediately after WWII, and transcripts of United States Army Air Force interviews with her.