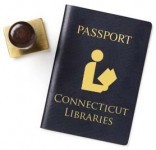 Passport to Connecticut Libraries
April 1-30, 2016 - Enter for a chance to win a Visa gift card of up to $150.
To celebrate National Library Week during April, the Passport to Connecticut Libraries Program invites you to visit all of the participating Connecticut public libraries. Each library has its own architecture, vibe and collection to explore and browse! The program is open to adults and children, and the hope is that it encourages residents to explore the amazing diversity of our public libraries. [learn more]
The mission of the Goshen Public Library is to provide books, media, information, programs and services to educate, inform and entertain the community.
Visit our Library Spotlight blog. Here you'll find information on the latest books & videos recently added to our collection, along with recommendations.
Events for Families & Adults
Be sure to check out our Events Calendar for a complete listing of all current and upcoming programs & events. Click Here to view programs & events specifically for kids.
Tweets by @GoshenPubLibCT