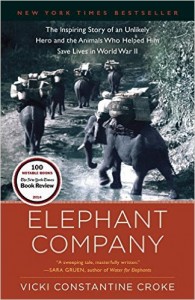 "Billy" Williams went to British Colonial Burma in 1920, fresh from service in WWI, to a job as a "forest man" in the jungles of Burma for a British teak company. Mesmerized by the intelligence, character and even humor of the great animals who hauled logs through the remote jungles, he became a gifted "elephant listener".  Increasingly skilled at treating their illnesses and injuries, he also championed more humane treatment for them, even establishing an elephant "school"  and "hospital".  In return, he said, the elephants made him a better man.
But Elephant Company is also a tale of war and daring.  When Imperial Japanese forces invaded Burma in 1942, Williams joined the elite Force 136, operating behind enemy lines.  His war elephants would carry supplies, build bridges and carry the sick & elderly over treacherous mountain terrain.
Part biography, part war epic, and part wildlife adventures, Elephant Company is an inspirational narrative that illuminates a little-known chapter in the annals of wartime heroism.
GPL: 940.542 CROKE