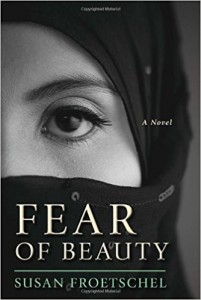 Susan Froetschel makes the Afghanistan conflict real on a personal level.  It is a tale rich with thought-provoking themes.  The Afghan way of life is expressed mostly by the main character, Sofi.  She is an industrious, hard-working,introspective woman in her village and she cares for her family as well as she can.  But Afghan ways for women are much different than for men and boys.  Sofi begins to understand written words but she must keep that secret to herself.
The American military unit arrives outside the village and sets up camp with the mere purpose of enhancing Afghani agriculture. The Taliban infuses its ugly face into the villagers' lives.
These three entities-the villagers, the Americans, the Taliban-come together in this novel in a way that helps our understanding of what it really is like in Afghanistan.
"Fearing beauty in itself is not evil.  It's understandable to fear what's new or what we cannot control.  The Koran warns against suspicion, and evil emerges when we prevent discovery of beauty by others.  I'm sure more than ever before that it's best to live life intent on controlling ourselves more than on controlling others."  -Sofi
GPL : F Froetsch