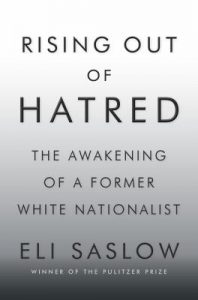 Eli Saslow is among the best nonfiction writers working today, and here he writes about a gifted young man trained to be a champion of hate who then encounters love, and hope, in the world he hated.  This is the story about the long struggle of America's racist history told through the battle over a single American soul. [David A Fahrenthold, pulitzer prize-winning political correspondent, The Washington Post]
Dereck Black grew up at the epicenter of white nationalism: His father founded "Stormfront", the largest racist community on the Internet.  His godfather, David Duke, was a KKK Grand Wizard.  By the time Dereck turned nineteen he had his own daily radio show—already regarded as the "leading light" of the bugeoning white nationalist movement.
Then he went to college—he had been homeschooled by his parents.  At New College of Florida, he continued to broadcast his radio show in secret each morning, living a double life until his classmate uncovered his identity and sent an e-mail to the entire school: "Dereck Black…white supremist, radio host…New College student???"   The ensuing uproar overtook the college.  Some students found the courage to reach out to him.  Dereck started to question the science, history, and prejudices behind his worldview.  Rising Out of Hatred tells the story of how white-supremacist ideas migrated from the far-right fringe to the White House through the intensely personal saga of one man who eventually, at tremendous personal cost, disavowed everything he was taught to believe.  This is a book to help us understand the American moment and to help us better understand one another.
GPL:  92 Black