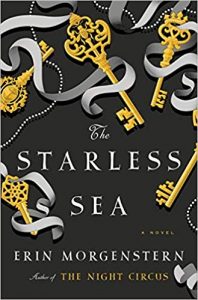 Far beneath the surface of the earth, upon the shores of the Starless Sea, there is a labyrinthine collection of tunnels and rooms filled with stories.  The entryways that lead to this sanctuary are often hidden, sometimes on forest floors, sometimes in private homes, sometimes in plain sight.  But those who seek will find.  Their doors have been waiting for them.
Zachary Ezra Rawlins is searching for his door.  When he discovers a mysterious book in the stacks of his campus library, he begins to read & is entranced by tales of lovelorn prisoners, lost cities, nameless acolytes.  Suddenly a turn of the page brings Zachary to a story from his own childhood, impossibly written in this book that is older than he is.  Zachary meets two people who will change the course of his life.  The three of them venture deeper into an intoxicating world searching for answers.  A timeless love story unspools, casting a spell of pirates, painters, lovers, liars, & ships that sail upon a Starless Sea.
Erin Morgenstern is the author of The Night Circus, a number one national bestseller that has been sold around the world & translated into 37 languages.
GPL:  F MORGENST