Alone At Dawn—Medal of Honor recipient John Chapman and the Untold Story of the World's Deadliest Special Operations Force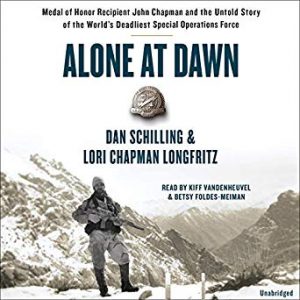 In the pre-dawn hours of March 4, 2002, just below the 10,496-foot peak of a mountain in eastern Afghanistan, a fierce battle raged.  Outnumbered by Al Qaeda fighters, Air Force Combat Controller John Chapman & a handful of Navy SEALs struggled to take the summit in a desperate bid to find a lost teammate. Believing he was dead, his SEAL leader ordered a retreat.  Chapman regained consciousness alone, with the enemy closing in on three sides.
Chapman knowing he was mortally wounded, single-handedly engaged two dozen hardened fighters to save the lives of an incoming rescue squad.  This posthumously earned him the Medal of Honor.  Chapman is the first airman in nearly 50 years to be given the distinction reserved for America's greatest heroes.
Written by Dan Schilling, a 30-year special operations & Combat Control veteran, and  Lori Chapman Longfritz, sister of John Chapman, was a long-time advocate for John's Medal of Honor & is proud to share the story of her brother, who stood out from the ordinary long before he ever put on a uniform.
GPL: 92 Chapman