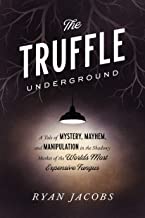 A THRILLING JOURNEY THROUGH THE HIDDEN UNDERWORLD OF THE MOST PRIZED LUXURY INGREDIENT
Beneath the gloss of star chefs and crystal-laden tables, the truffle supply chain is touched by theft, secrecy,sabotage,and fraud.  Farmers patrol their fields with rifles and they fear losing trade secrets to spies.  Hunters plant poisoned meatballs to eliminate rival truffle-hunting dogs.  Naive buyers and even knowledgeable experts are duped by liars and counterfeiters.
The Truffle Underground is deeply reported and elegantly written by Ryan Jacobs, who began this investigation for The Atlantic.  This page-turning expose documents the dark, sometimes deadly crimes at each level of the truffle's path from ground to plate, making sense of an industry that traffics in scarcity, seduction, and cash.  Through it all, a question lingers:  What, other than money, draws people to these dirt-covered jewels?
GPL: 381.415 JACOBS