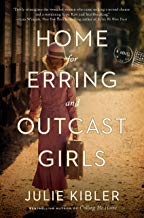 In turn-of-the-twentieth-century Texas, the Berachah Industrial Home for the Redemption of Erring Girls is an unprecedented beacon of hope for young women consigned to the dangerous poverty of the streets by birth, circumstance, or personal tragedy.  When Lizzie Bates and Mattie Corder meet there—one sick and abused but desperately clinging to her young daughter, the other jilted by the beau who fathered her ailing son—they form a friendship that will see them through unbearable loss, heartbreak, difficult choices,and, ultimately, diverging paths.
A century later, Cate Sutton, a reclusive university librarian, begins to comb through the home's archives in her university's library.  Pulled by an indescribable connection to their stories, Cate confronts her own heartbreaking past and reclaims the life she thought she had forever let go of.
"A moving tale of friendship and resilience, Home for Erring and Outcast Girls is the story of three different women, each betrayed and abandoned, and the ways in which they find their way home.  Emotional.  Raw.  Compelling.  Julie Kibler writes with skill, compassion, and grace." -Ariel Lawhon, New York Times bestselling author of  I Was Anastasia.
GPL: F Kibler