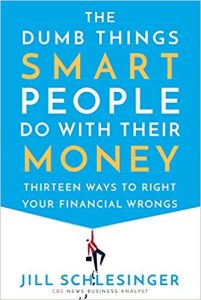 Why do even the smartest among us make dumb mistakes with our money?  After decades working as a Wall Street Trader, investment adviser, & money expert for CBS, Jill Schlesinger reveals 13 costly mistakes you're probably making right now with your money without even knowing it.  Schlesinger argues that simple emotional blind spots cause us to make well-intentioned mistakes like saving for college for your kids before you've saved for your own retirement, or taken on too much risk when you invest.
Practical, no-nonsense, & often counter-intuitive, The Dumb Things Smart People Do With Their Money tells you what you really need to hear about retirement, college financing, insurance, buying a house when you should rent, failing to protect your identity, and more.
It might just be the smartest investment that you make all year.
GPL: 332.024 SCHLESIN