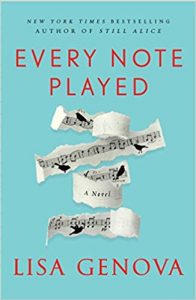 From neuroscientist and the New York Times best selling author of Still Alice, Lisa Genova, comes a powerful exploration of regret, forgiveness, freedom, & what it means to be alive.
An accomplished concert pianist, Richard received standing ovations from audiences all over the world in awe of his rare combination of emotional resonance & flawless technique.  Richard now has ALS, & his entire right arm is paralyzed.  The loss of his hand feels like a death, a loss of true love, a divorce—his divorce.  Three years ago, Karina removed their framed wedding picture from the living room wall & hung a mirror there instead.  When Richard becomes increasingly paralyzed & is no longer able to live on his own, Karina becomes his reluctant caretaker.
Poignant & powerful, Every Note Played is a masterful exploration of redemption & what it means to find peace inside of forgiveness.
GPL: F Genova