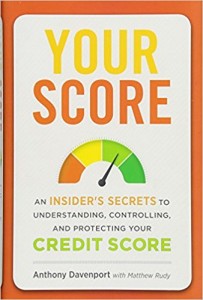 A healthy credit score is essential for a healthy financial life.  But despite its importance, the precise mechanism used to determine our credit scores continue to be shrouded in mystery.  With this revelatory new guide, YOUR SCORE, written by Anthony Davenport, is a consumer-friendly road map for understanding & navigating the secretive world of consumer credit.
Drawing on the real stories of his own firm's high-profile clients, as well as the stories of middle-class Americans, Mr. Davenport reveals where your credit score comes from, how to improve, maintain, or rescue it, and how to avoid the hidden credit pitfalls that can ensnare even the most careful consumer.
Your Score is a detailed yet accessible manual designed to help you take control of your credit score, understand how to play the game, and gain an insider's perspective on how to navigate all the important financial decisions in your life.
183 pp.
GPL: 332.743