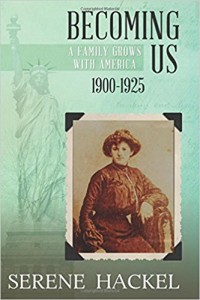 Becoming Us is Serene Hackel's debut novel.  It is drawn from the true stories her mother told Serene about the experiences of her grandparents, her mother  and her siblings; grounded in established historical fact.
At age eighteen, orphan Minnie Margolis was sent from her native Poland to Vienna, Austria, a city where she had no connections.  After literally bumping into the man who would one day become her husband, Minnie's Search for roots drew her to the United States as a shy immigrant who sought to embrace American values, politics, and freedom.
Told in Minnie's voice as well as that of her husband and oldest daughter, this compelling story follows one family as they move from the old world to the new, experiencing all the cultural forces that swept them along in this whirlwind of change.
GPL:  F Hackel