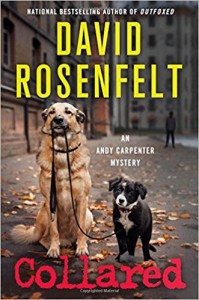 Collared is one in a page-turning series of mystery & crime.  Dog lovers will adore these books but serious mystery fans will love the puzzle.
Lawyer Andy Carpenter's true passion is the Tara Foundation, the dog rescue organization he runs with his friend Willy Miller.  All kinds of dogs make their way to the foundation, and it isn't surprising to find a dog abandoned at the shelter one morning—although this one was accompanied by a mysterious anonymous note.  But they are quite surprised when they scan the dog's embedded chip and discover that they know this dog.  He is the "DNA dog".  A critical part of an earlier kidnapping  investigation of a baby & his dog. A conviction was made, but the baby & the dog were never found.
Now with the reappearance of the dog, the case is brought back to light & the search for the child renewed.  What Andy & his team start to uncover is far more complicated & dangerous than they ever expected.
GPL:  M Rosenfelt