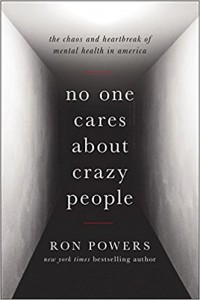 From the centuries of torture of "lunatics" at Bedlam Asylum to the infamous eugenics era; from the follies of the anti-psychiatry movement to the current landscape in which too many families struggle alone to manage afflicted loved ones, Powers outlines in clear sharp detail our fears and myths about mental illness & the fractured public policies that have resulted.
Braided with that history is the moving story of Powers' beloved son Kevin—spirited, endearing, & gifted—who triumphed even while suffering from schizophrenia until finally he did not, & the story of his courageous surviving son Dean, who is also schizophrenic.
A blend of history, biography, memoir, & current affairs ending with a consideration of where we might go from here.  This is a thought-provoking look at a dreaded illness that has long been misunderstood.
GPL:  362.26 Powers