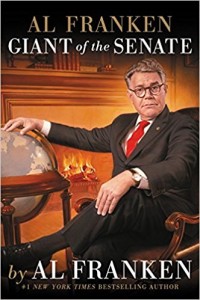 This is a book about an unlikely campaign that had an even more improbable ending:  the closest outcome in history and an unprecedented 8-month recount saga, which is pretty funny in retrospect.
It is a book about what happens when the nation's foremost progressive satirist gets a chance to serve in the United States Senate and, defying the low expectations of the pundit class, actually turns out to be good at it.  It's a book about our deeply polarized, frequently depressing, occasionally inspiring political culture, written from inside the belly of the beast.
In this candid personal memoir, the honorable gentleman from Minnesota takes his army of loyal fans along with him from Saturday Night Live to the campaign trail, inside the halls of Congress, and behind the scenes of some of the most dramatic and/or hilarious moments of his new career in politics.
"Admirably incautious…Franken has weaponized the gifts that proved so useful for comedy—a sharp eye and a sharper tongue. the ability to tease out the essential absurdity of a given situation and deliver the goods with maximum impact." [Mark Binelli, Rolling Stone]
"A fun and compelling book, [Franken] uses self-deprecating humor to poke fun at everyone on either side of the aisle, and he gives readers insight to the daily workings of life in the Senate.  His love of the people and the state of Minnesota is crystal clear." [Jeff Ayers, AP]
GPL: 92 Franken