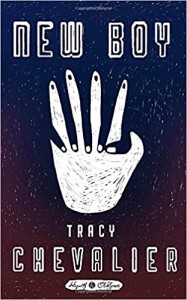 Arriving at his fifth school in as many years, diplomat's son, Osei Kokote knows he needs an ally if he is to survive his first day—so he's lucky to hit it off with Dee, the most popular girl in school. But one student can't stand to witness this budding relationship: Ian decides to destroy the friendship between the black boy and the golden girl.
In NEW BOY, the tragedy of Othello is transposed to a 1970s suburban Washington DC schoolyard, where kids fall in and out of love with each other before lunchtime, and practice a casual racism picked up from their parents and teachers.  The youth of the characters is played naturalistically and honestly, yet still manages to elicit much the same pathos that Othello's tragic path does.  The depth of connection between the original work and this new one is astonishing; Chevalier builds parallels within parallels that are both unexpectedly creative and exquisitely apt.
NEW BOY  succeeds in portraying a Shakespearean tragedy's sense of growing unease, and culminates in an unnerving and haunting climax that will take a long time to shake.
GPL: F Chevalie