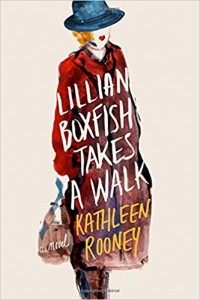 Lillian Boxfish Takes a Walk is delectably theatrical; laced with strands of tart poetry and emulates the dark sparkle of Dorothy Parker, Edna St Vincent Millay and Truman Capote.  She took 1930s New York by storm, working her way up writing copy for R H Macy's to become the highest paid advertising woman in the country.  It was a job that, she says, "in some ways saved my life, and in other ways ruined it".
It's the last night of 1984 and Lillian, 85 years old but just as sharp and savvy as ever,  is on her way to a party; on a walk that takes her over 10 miles around the City.  She meats bartenders, bodega clerks, security guards, criminals, children, parents, & parents-to-be, while reviewing a life of excitement & adversity, passion & heartbreak, illuminating all the ways New York has changed—and has not.
A love letter to city life in all its guts and grandeur, Lillian Boxfish Takes a Walk by Kathleen Rooney paints a portrait of a remarkable woman across the canvas of a changing America: from the Jazz Age to the onset of the AIDS epidemic; the Great Depression to the birth of hip-hop.
GPL: F Rooney