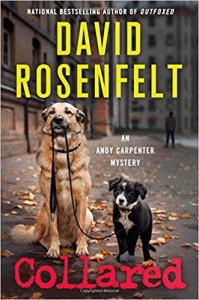 COLLARED is an 'Andy Carpenter Mystery'; the latest one in a series that now includes 16 mysteries.  Lawyer, Andy Carpenter's true passion is the Tara Foundation , the dog-rescue organization he runs with his friend, Willie Miller.  All kinds of dogs make their way to the shelter— there is quite a surprise when they scan the newest dog's embedded chip & discover he is the "DNA dog".
Two and a half years ago Jill Hickman's baby & dog were kidnapped in broad daylight & they haven't been seen since.  Now with the reappearance of the dog, the case is brought back to light & the search for the child is renewed.
This is a courtroom drama with charm & a really clever plot with Jersey gangsters, ruthless criminals, & likable protagonists.  Rosenfelt manages to make the reading both humorous (laugh-out-loud funny) & edge-of-your-seat suspenseful.
To make sure the real kidnapper is in jail, Andy & his team enter the case.  But what they start to uncover is far more complicated and dangerous as they ever expected.
GPL: M Rosenfelt