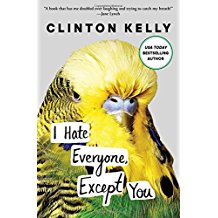 From the best selling author & beloved TV host, comes a hilariously candid, deliciously snarky collection of essays about his journey from awkward kid to slightly-less-awkward adult.
In I Hate Everyone Except You, Clinton Kelly reveals some unknown secrets about himself, like that he's a finicky connoisseur of 1980s pornography, a disillusioned critic of New Jersey's premier water parks & perhaps the world's least enthused high-school commencement speaker.Whether he's throwing his younger sister in the air to jumpstart her cheerleading career or heroically rescuing his best friend from death by mud bath, Clinton leaps life's social hurdles with aplomb.
With his signature wit and relatable voice, he shares his unique ability to navigate the stickiest of situations. Clinton delves into outrageous topics in his thoroughly unabashedly frank & uproarious collection.
GPL 92 Kelly