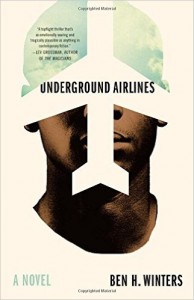 This novel takes place in present day America except for one thing: the Civil War never occurred.
"Victor", a young black man, is acting as a bounty hunter for the US Marshal Service returning runaway slaves from the Hard Four, the places that slavery is allowed to exist: Louisiana, Mississippi, Alabama and Carolina [North and South Carolina are only one large state.
Victor suppresses the memories of his childhood on a plantation and works to infiltrate the abolitionist movement called the Underground Airlines.  A figure of speech: it's the root of a grand, extended metaphor, "pilots", "stewards", "baggage handlers", "gate agents" "connecting flights" and "airport security".  The Airlines flies on the ground, in package trucks,unmarked cars and stolen tractor-trailers.  It flies in the illicit adjustment on packing slips, bribery of border security agents…
A rich novel of a terrifyingly alternate America.  Everything is possible.
GPL: F Winters