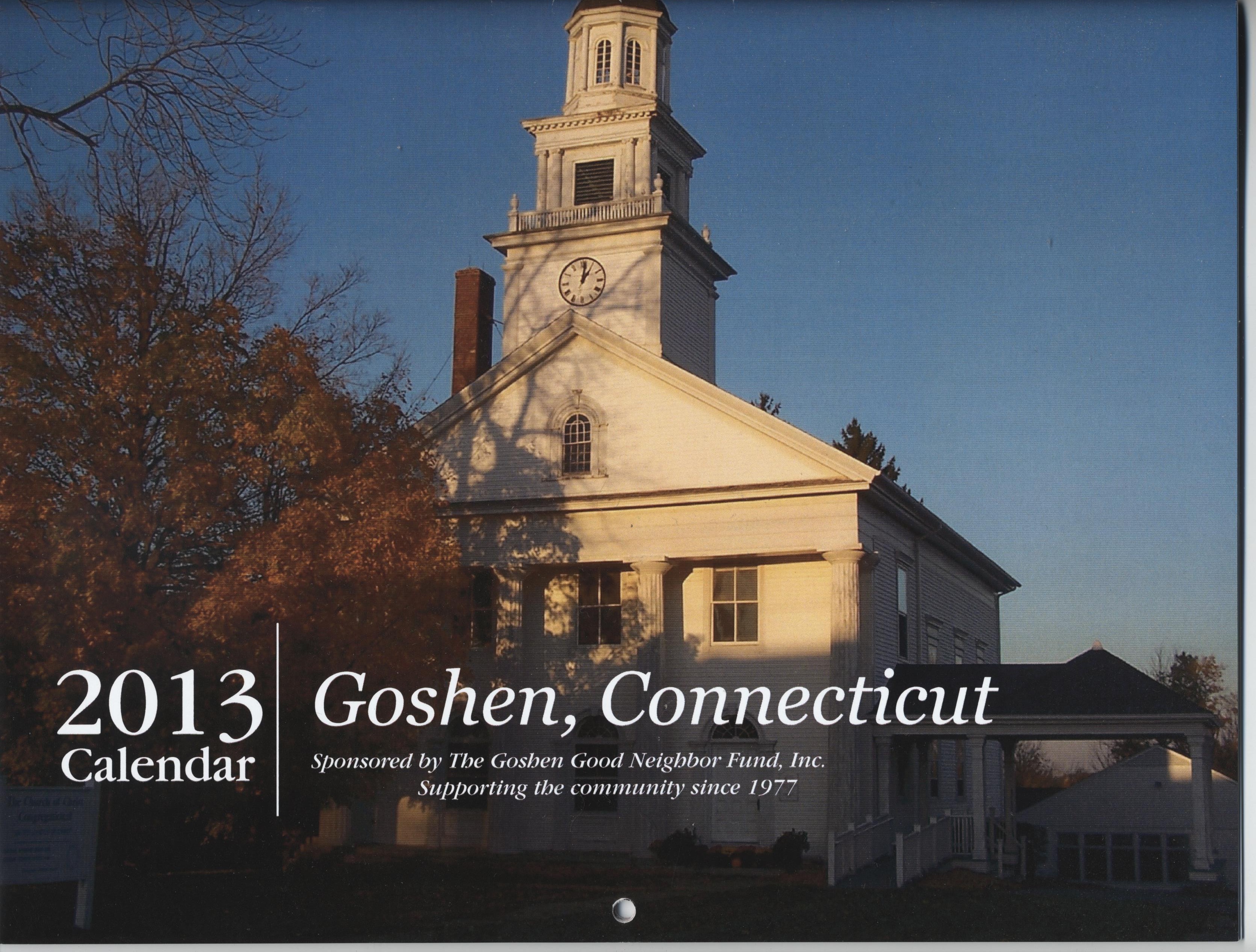 Would you like to have one of your photos of Goshenincluded in The Goshen  Calendar for 2014?
Contest deadline extended until June 30th!
2014 Goshen Calendar Photo Contest
SPONSORED BY
The Goshen Good Neighbor Fund, Inc.

KEEP THOSE CAMERAS CLICKING for our NEXT Calendar….
You are cordially invited to join in the fun and celebrate the beauty 
and community of
Goshen, Connecticut!

Our 5th annual 2014 Goshen Good Neighbor Calendar  will feature 13 
photographs which capture the essence of our special community…pastoral 
scenes, barns, stone walls, celebrated events, it's people…pictures 
which portray both the serenity and vibrancy of "this town above all 
others."
          We are looking for photos depicting each season…spring, 
summer, autumn and winter!!!

Contest runs March 15th - June 30, 2013
All entries must be received by June 30, 2013.
Entry fee: $10 per entry
(includes submission of up to 2 photographs)

CONTEST RULES and INFORMATION:
*Photograph must be available digitally so that it, if selected, can be 
sent electronically for upload and       at a high resolution.
*Photograph must have been taken in Goshen, Connecticut.
*If photo contains identifiable faces, the people must be identified and 
permission received to use their likeness.
*No Maximum entries per entrant.
*Photos must be 8 x 10 LANDSCAPE (horizontal) orientation, not portrait 
(vertical).
*Photos may be in color or true B&W, no sepia or other monotone.
*Please do not submit photos with time/date settings or decorative 
borders, or which need to be trimmed or cropped.
*Photographer's name, address, phone number, email (if available) AND 
the location where photo was taken   should be printed neatly on a 
post-it note affixed the back of each photo submitted.
*Checks in the amount of $10.00 should be made payable to The Goshen 
Good Neighbor Fund, Inc.
*Contest is open to all age 12 and over.
*A limited supply of calendars will be printed in late summer of 2013.
*Calendars will be on sale at various Goshen businesses and at the 2013 
Goshen Fair.
*An art showcase featuring ALL submitted photos will be held in Autumn 
of 2013 at The Goshen Public Library.
*Following the contest and art showcase, your photo(s) may be picked up 
at The Goshen Public Library.

Photo contest submissions may be dropped off at The Goshen Public 
Library
by June 15th, 2013 during normal hours of operation OR mailed to:
The Goshen Good Neighbor Fund, Inc. Attn: Photo Contest, PO Box 492, 
Goshen, CT  06756.
(Please clearly mark "Do Not Bend" on envelope)

This contest is a fundraising event to benefit The Goshen Good Neighbor 
Fund, Inc., a 501c3 organization.
If you have questions, please contact Kit Wright (860-491-2419).